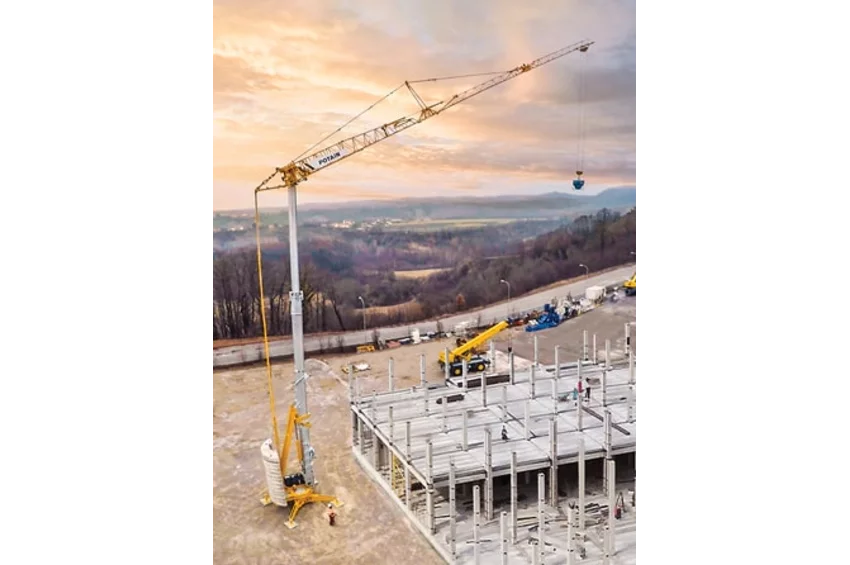 Self-erecting crane HUP 32-27
MAXIMUM LIFTING CAPACITY (t): 4
WORKING HEIGHT – ORIZONTAL BOOM (m): 27
MAXIMUM WORKING RAIDUS (m): 32
ADVANTAGES
SPECIFICATIONS
DOWNLOAD BROCHURE
The actuation of the mechanisms for lifting / lowering the load, rotating, moving the trolley on the arm, is done by means of the latest generation electric motors, equipped with FREQUENCY VARIATORS.
The equipment computer recognizes the manipulated load and automatically adjusts the maximum possible operating speed, depending on the load.
The operation of the crane can be set in 3 different ways:
standard;
high precision of movements;
dynamic.
Permanent 4-wire muffle.
Adapting the crane operation to the available power source.
The crane can be made with the horizontal arm,  7 floors buildings and with the inclined arm, even 11 floor buildings with a still sufficiently large working radius
MAXIMUM WORKING RADIUS (m): 32
MAXIMUM LIFTING CAPACITY AT THE END OF BOOM (t): 1
MAXIMUM WORKING HEIGHT – INCLINED BOOM (m): 40
Self-erecting crane HUP 32-27 – DOWNLOAD