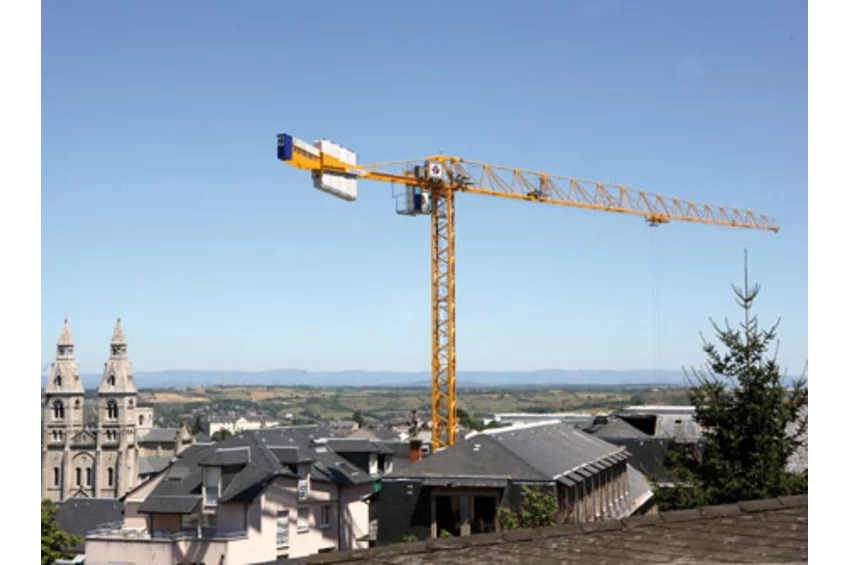 Top-Slewing crane MDT 109
MAXIMUM PAYLOAD (t): 6
MAXIMUM WORKING RADIUS (m): 55
MAXIMUM LOAD AT THE END OF THE ARM (t): 1.35
ADVANTAGES
SPECIFICATIONS
DOWNLOAD BROCHURE
Actuation of the mechanisms for lifting / lowering the load, turning, moving the trolley on the arm, is done by by means of state-of-the-art electric motors, equipped with frequency converters.
Permanent recognition of the manipulated load.
Optimization of operation by automatic adjustment of the maximum possible speed depending on the load. The speed at the load winch increases by over 25% at the descent phase, compared to the ascent. Reduced electricity consumption, due to the optimization of the operation of the mechanisms based on the above.
Possibility to increase the working diagram by 10% by activating the "P +" function.
Possibility to simultaneously reduce all working speeds to 75%, 50%, 25%, for handling high precision and for smooth operation at start or stop.
Crane configuration, sensor calibration, setting of limiters after mounting the crane, is done in 15 minutes, only from the cab, via "CCS".
Navigating the "CCS" menu is very comfortable for the operator, directly from the "jog dial" button, without the need to touch the monitor screen.
Joining the tower sections with the help of pins that do not require any tightening with a special torque wrench and the lifespan is unlimited; compared to other technical solutions, which offer joining elements that must be changed at once to two uses (two projects).
MAXIMUM PAYLOAD (t): 6
MAXIMUM WORKING RADIUS (m): 55
MAXIMUM LOAD AT THE END OF THE ARM (t): 1.35